Welcome To The Premiere 127 World's Longest Yard Sale Vendor Site
Hi there. We are so glad you found our website. You are now at the premier vendor site on the entire US 127 Corridor World's Longest Yardsale!
So welcome to the best place for vendors and customers on the whole US 127 Yard Sale Route, right here at Steepleview Farm!
We have been in business for 15 years and have tried to answer all of your questions, as well as work very hard to be the best host on the entire route.  Over the years our vendors and guests have said we are succeeding!
Browse this site for answers to your questions.  We hope to have you come set up with us this year!
Click on the "contact us" button at the top of this page and CALL TODAY!
WHAT WE ARE

We operate what we always hoped would be the very best vendor site on the entire 127 world's longest yard sale route. We worked very very hard to make this a wonderful experience for our vendors and our many guests who come here to shop. Well guess what. In the video below you will see, IT'S OFFICIAL. We ARE the best site!
We have room for vendors this year and welcome you to come and stay and set up with us. We begin our rental reservations around June 1st.
WHERE ARE WE?
We are located right on US 127 in beautiful Owen County Kentucky. For a better look, check out the map in the column to the right.
DO YOU HAVE ROOM FOR ME?
We welcome our many returning vendors who will tell you that we have the best, most beautiful, comfortable and customer rich site on the entire yardsale route. For more than 15 years now our group of returning vendors has grown.
But so have we.
Yes, we have spaces, every one a great place to sell, available for you this year.
WHAT KIND OF SPACE DO I GET?
Each one of our vendor sites at the US 127 World's Longest Yard Sale is a huge 20 foot by 40 foot spread. Some people find room for their RV and two 10'x  20′ foot tents out front to sell from. Oh, and there is plenty of additional parking if you don't want your vehicle on your sale lot.
CAN I SPEND THE NIGHT?
Absolutely. Most of our vendors make this a vacation. They have campers, tents, vans and some even sleep in their cars. It's a wonderfully safe and fun environment. Oh, and since there is food on site, you can either cook your meals yourself, or dine with us.
We welcome all campers and families to stay overnight. Our rules are pretty simple. Please be courteous to your fellow campers and no open fires.
WHAT ARE THE SITES LIKE?
Our vendor sites are all very level, on a nice lawn, not gravel or blacktop or dust. We mow this lot every week all summer long and it's like camping on a golf course. You really have to see it to believe it.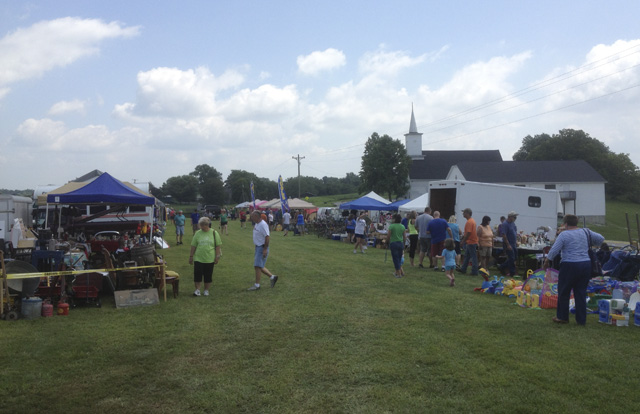 Because we have off street parking for our visitors (over 10,000 cars last year) our site is nice and quiet, the perfect place for shoppers to stroll, and look and BUY, BUY, BUY!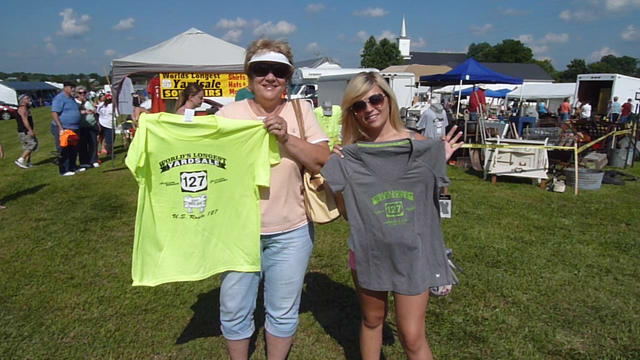 HOW LONG CAN I STAY? Our lot is open to incoming vendors beginning Tuesday evening before the sale at any time after 6pm. Vendors are asked say good-bye no later than noon on Monday after the sale.
ARE THEIR ANY OTHER AMENITIES?
We offer our vendors:
A Large, level, BEAUTIFUL 2 acre lawn

HIGHLY VISIBLE, right on US 127

SAFE, EASY access

PLENTY of SAFE off street parking

GREAT signage in both directions

Limited Electricity on site, Porta John on site, water on site

We have a full food service for shoppers and vendors alike!

VERY REASONABLE rent, overnighters welcome!

Nice breeze, beautiful views

COMMERICAL VENDORS WELCOME
SOUNDS GREAT, HOW MUCH IS IT?
Believe it or not we haven't raised our rent in years, it's still only $100 for the entire week of fun and sales, sales, sales!
OK, I WANT TO COME SET UP, WHAT DO I DO NOW?
Well that's easy, just email me at:
I'll send you a form to fill out.  For first time vendors we ask for a $50 deposit which is applied to your rent.  The deposit is non-refundable of course since we will be holding your site for you and unable to rent it to anyone else if your plans change.
WE LOOK FORWARD TO SEEING YOU.
COME SET UP WITH US AND HAVE A GREAT TIME!